Azi am o intalnire la pranz cu Row… a trecut pe-aici sa vada daca date-ul nostru mai sta in picioare si-a exclamat surprinsa: OMG, you have a belly! You popped!
Funny, de parca nu ne-am fi vazut de o suta de ani! Asa e, m-am expandat insa nu de ieri-de azi ci de cateva luni. Mai am un pic si ma rostogolesc. Car deja 15 kg in plus fata de asta toamna cu mine, every single day! Mi se umfla gleznele si obrajii :(((. Ma simt un fel de Winnie the Pooh, pe care dupa cum stim cu totii, nu-l inghit nici cu o suta de lamai.
Ca sa documentam mirarea venita din me popping, m-am dus la baie si mi-am facut o poza cu telefonul. Strict in scopuri documentaristice. Burta de sapt… aaaaa… 32 cred. Cand colocatarul, dupa spusele lu' ta'su, ar avea in jur de 42 de cm si 1700 g. La mai mareee! :D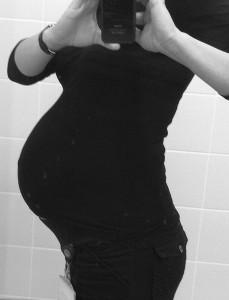 PS: a se observa si tzutzuroiul care-mi face burta sa arate ca un al treilea san urias, the belly button pe care camaradul il impinge din rasputeri! Yummyyyyy!